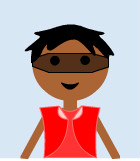 Nin was a contestant of Survivor: The Congo.  He was originally a member of the Kupambana tribe, with the rival tribe of Uhuru, and later the independent tribe of Tofauti.  He placed 13th.
Early on, Nin did not form any alliances, and voted Nick rnadomly at the 1st Tribal Council.  At the 2nd Tribal Council, Nin self-voted, forcing him into a tie with Brady, being saved in a 2-1 vote.  At the 3rd Tribal Council in a row that his tribe went to, Nin formed an alliance with Nick, while an opposing alliance of Carter and Rohan forced a 2-2 tie, then 1-1 tie, which led to rocks being drawn, and Nin was eliminated.
Challenges
Edit
Survivor Pole - Loss
Trunk Puzzle - Loss
Rope Hang - Loss
Nin's Voting History
Episode
Nin's
Votes
Voted Against
Nin
1

Nick

Rohan

2

S/V

N/V

1st: Rohan, Nick

2nd: Carter

3

Carter

N/V

1st: Rohan, Carter

2nd: Rohan

Eliminated by White Rock,  Day 10
Nin is the first person to be in two tie situations where he is an option to be voted for, and the only one.
Nin is the first person to be eliminated by the White Rock, and the only one.
Nin lost the most challenges in a row without a win next(pre-merge), with 3 challenges being lost and no challenges being won.
Rohan voted for Nin at every tribal council Nin went to.