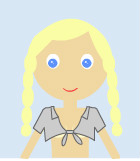 Maisy was a contestant on Survivor: The Congo.  She was originally on the Uhuru tribe, with the rival tribe of Kupambana, and later the independent tribe of Tofauti.  At the final 10, she declared independence and jioned the Tofauti tribe. She placed 10th.
Announced after the game ends.
Challenges
Edit
Survivor Pole - Win
Trunk Puzzle - Win
Rope Hang - Win
Hot Potato -  Loss
Coconut Grab -  Win
The Pole - Loss
Maisy's Voting History
Episode
Maisy's
Votes
Voted Against
Maisy
1
Immune
2
Immune
3
Immune
4
Danny             
5
Immune
6

Courtney      Kat, Courtney

6th Voted Out, Day 18

 Vote to win:        Courtney
Maisy never voted with the majority, or even with anyone else.
Maisy is the only person to be eliminated from the Tofauti tribe.
Maisy's blindside won 
Ad blocker interference detected!
Wikia is a free-to-use site that makes money from advertising. We have a modified experience for viewers using ad blockers

Wikia is not accessible if you've made further modifications. Remove the custom ad blocker rule(s) and the page will load as expected.