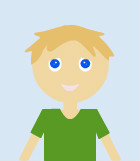 Brady was a contestant of Survivor: The Congo.  He was a member of the Kupambana tribe, with the rival tribe of Uhuru, and later the indepenendent tribe of Tofauti.  He placed 14th.
Brady openly stated that he thought he could coast through the game without any alliances.  At the 1st Tribal Council, he successfully eliminated Goose instead of himself, however, at the 2nd Tribal Council, he may have coasted too much, as he self-voted, forcing himself into a tie with Nin, and being eliminated on the re-vote in a 2-1 vote.
Challenges
Edit
Survivor Pole - Loss
Trunk Puzzle - Loss
Brady's Voting History
Episode
Brady's
Votes
Voted Against
Brady
1

Goose

Goose,  Carter

2

S/V

N/V

1st: Brady, Carter

2nd: Rohan, Nick

2nd Voted Off, Day 6
Trivia
Brady only was eliminated because of his self-vote.
Brady had the oppurtunity to declare independence, but stayed on his tribe.
Brady was voted out by Carter, than Rohan and Nick, but never together.
Brady always voted for the person who was eliminated.
Ad blocker interference detected!
Wikia is a free-to-use site that makes money from advertising. We have a modified experience for viewers using ad blockers

Wikia is not accessible if you've made further modifications. Remove the custom ad blocker rule(s) and the page will load as expected.